Beschrijving
Top Selling Low Temperature Glycol Water Cooled Screw Industrial Water Chiller

1. Features-Low temperature water cooled glycol industrial water chiller
(1)High efficient screw compressor;
(2)High efficient condenser and evaporator;
(3)Water cooled Chiller with imported expansion valve;(
(4) Intellectualized controller;

Low temp. glycol industrial water chiller application:
Eurostars low temp. industrial glycol water cooled screw water chiller with heat recovery is our self desgin, research and develop new generation product utilizing advanced technology, with widely capacity, chilled liquid outlet temperature range -35ºC~0ºC, recovery can reach to 30%~80% of cooling capacity.

Eurostars low temp. glycol industrial water chiller is widely applied in industrial fields such as freezing, cold storage, food processing and industrial refrigeration, etc.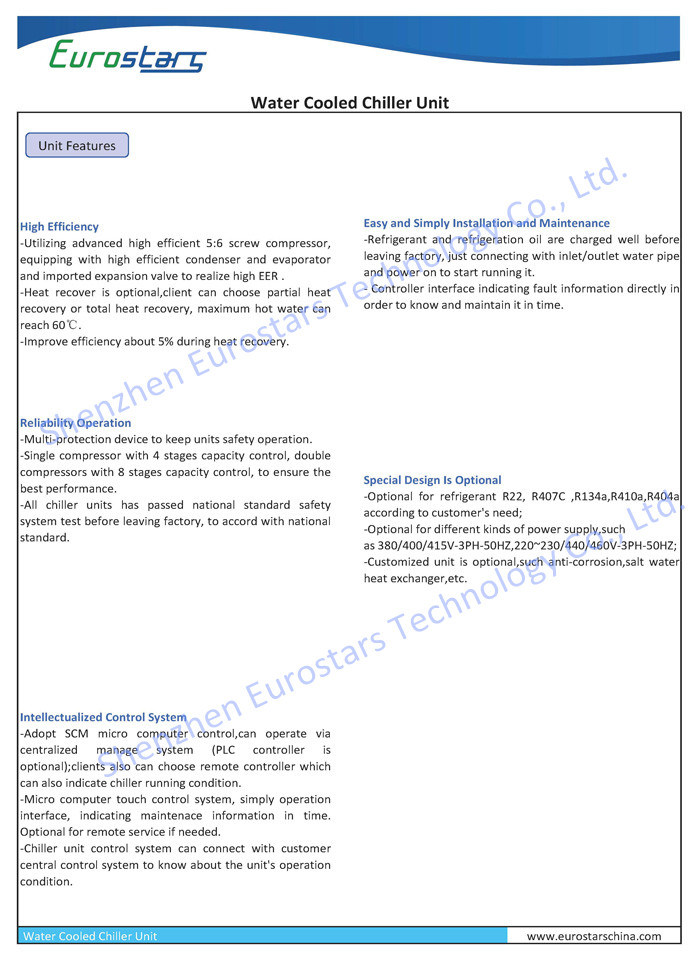 2.Main parts:-Low temperature water cooled glycol industrial water chiller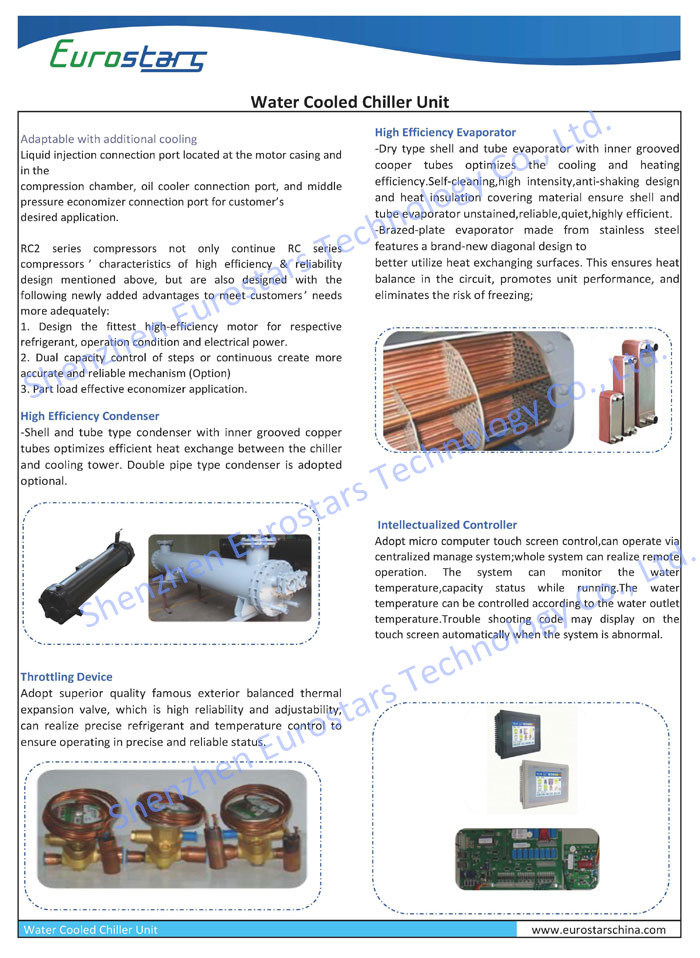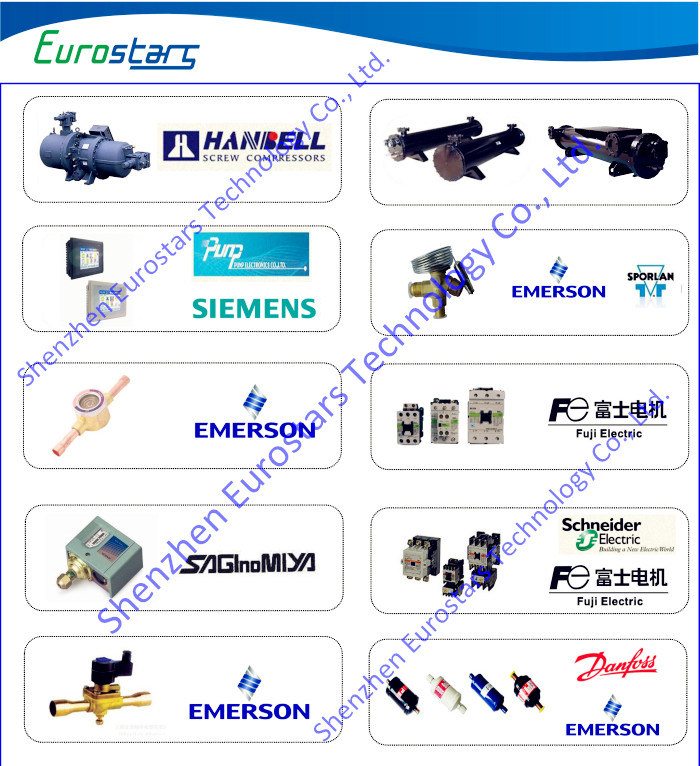 3.Techinal Specification-Low temperature water cooled glycol industrial water chiller (-15ºC)

Low Temperature Water Cooled Screw Chiller (Heat Recovery)(-15ºC/R404A)

ESGI

015DSOXY

020DSOXY

025DSOXY

030DSOXY

035DSOXY

040DSOXY

045DSOXY

050DSOXY

055DSOXY

070DSOXY

080DSOXY

085DSOXY

015DSOXVY

020DSOXVY

025DSOXVY

030DSOXVY

035DSOXVY

040DSOXVY

045DSOXVY

050DSOXVY

055DSOXVY

070DSOXVY

080DSOXVY

085DSOXVY

Rated Cooling Capacity

KW

49

65

84

112

126

145

168

185

200

238

278

296

USRT

13.9

18.5

23.9

31.8

35.8

41.2

47.8

52.6

56.9

67.7

79.0

84.2

X1000 Kcal/h

42.1

55.9

72.2

96.3

108.3

124.7

144.5

159.1

172.0

204.6

239.0

254.5

Input Power

KW

26.6

34.9

44.4

58.1

65.3

74.3

85.9

93.5

102.4

120.9

142.0

150.6

Comp.Input Power XQTY (kw)

26.6×1

34.9×1

44.4×1

58.1×1

65.3×1

74.3×1

85.9×1

93.5×1

102.4×1

120.9×1

142.0×1

150.6×1

Comp.Current (A)

44.8

58.7

74.6

97.6

109.7

125.0

144.4

157.2

172.2

203.3

238.8

253.2

Power Supply/Refrigerant

3 -380V-50HZ/R404A

Protection Device

Phase reversion protection, Phase lack protection, Overload current protection,
Discharge air temperature protection, Low&High pressure protection,
Low temp protection, Reserved water flow protection interface.

Number of Refrigeration Circuit

1

Capacity Control (%)

0,66,100

0,50,75,100

Refrigerant Charge (kg)

18

25

32

42

46

55

62

68

75

90

102

110

Condenser

Shell and Tube Type

Water Side Max Pressure (MPa)

1

Dia.of Pipe to Condenser (inch)

2"

2-1/2"

3"

3"

3"

3"

4"

4"

4"

5"

5"

5"

Cooling Water Flow (m3/h)

13.0

17.2

22.1

29.3

32.9

37.7

43.7

47.9

52.0

61.7

72.2

76.8

Condenser Water Pressure drop(kPa)

35

40

39

46

45

44

43

43

43

44

44

44

Evaporator

Shell and Tube Type

Water Side Max Pressure (MPa)

1

Dia.of Pipe to Evaporator(inch)

2"

2-1/2"

3"

3"

3"

3"

4"

4"

4"

4"

5"

5"

40% Glycol Flow Capacity (m3/h)

9.7

12.8

16.6

22.1

24.9

28.7

33.2

36.6

39.5

47.0

54.9

58.5

Evaporator Water Pressure drop (kPa)

26

34

38

43

55

67

74

80

77

52

57

76

Running Noise dB(A)

73.1

73.7

74.8

75.0

75.0

75.0

75.0

75.0

75.0

75.0

75.0

75.0

Total weight (Kg)

1070

1100

1290

1450

1640

1780

2010

2130

2300

2650

2800

3010

Running Weight (Kg)

1170

1210

1460

1630

1800

1950

2190

2290

2510

2930

3080

3300

Heat Recovery Parameters

Refrigerant charge(kg)

21

28

35

45

49

58

65

71

78

95

107

115

Heat Reclaimed Volume

kW

15

20

25

34

38

44

50

56

60

71

83

89

USRT

4.2

5.5

7.2

9.6

10.7

12.4

14.3

15.8

17.1

20.3

23.7

25.2

X1000 Kcal/h

12.6

16.8

21.7

28.9

32.5

37.4

43.3

47.7

51.6

61.4

71.7

76.4

Heat Recoverer

Shell and Tube Type

Water Side Max Pressure(MPa)

1

Dia of pipe to Heat Recoverer(inch)

1"

1-1/2"

1-1/2"

1-1/2"

1-1/2"

2"

2"

2"

2"

2"

2-1/2"

2-1/2"

Reclaimed Water Flow(m3/h)

2.5

3.4

4.3

5.8

6.5

7.5

8.7

9.5

10.3

12.3

14.3

15.3

Heat recovery Unit Water
Pressure drop(kPa)

21

24

23

28

27

27

26

26

26

26

27

26

Total weight (Kg)

1130

1160

1390

1550

1780

1920

2190

2310

2510

2900

3050

3350

Running Weight (Kg)

1230

1270

1560

1730

1940

2090

2370

2470

2720

3180

3330

3640
Low Temperature Water Cooled Screw Chiller (Heat Recovery)(-15ºC/R404A)

ESGI

090DSOXY

100DSOXY

110DSOXY

120DSOXY

135DSOXY

170DSOXY

200DSOXY

220DSOXY

030DDOXY

065DDOXY

070DDOXY

095DDOXY

090DSOXVY

100DSOXVY

110DSOXVY

120DSOXVY

135DSOXVY

170DSOXVY

200DSOXVY

220DSOXVY

030DDOXVY

065DDOXVY

070DDOXVY

095DDOXVY

Rated Cooling Capacity

KW

310

360

395

425

474

594

699

780

97

225

252

336

USRT

88.1

102.4

112.3

120.8

134.8

168.9

198.7

221.8

27.6

64.0

71.7

95.5

X1000 Kcal/h

266.6

309.5

339.6

365.4

407.6

510.7

601.0

670.7

83.4

193.5

216.7

288.9

Input Power

KW

158.6

182.7

200.7

213.7

237.5

302.2

353.8

391.1

53.2

116.2

130.6

171.8

Comp.Input Power XQTY (kw)

158.6×1

182.7×1

200.7×1

213.7×1

237.5×1

302.2×1

353.8×1

391.1×1

26.6×1

58.1×1

65.3×1

85.9×1

Comp.Current (A)

266.6

307.2

337.4

359.3

399.3

508.0

594.9

657.5

89.6

195.2

219.4

288.8

Power Supply/Refrigerant

3 -380V-50HZ/R404A

Protection Device

Phase reversion protection, Phase lack protection, Overload current protection,
Discharge air temperature protection, Low&High pressure protection,
Low temp protection, Reserved water flow protection interface.

Number of Refrigeration Circuit

1

2.0

Capacity Control (%)

0,50,75,100

0, 25,37.5,50,62.5,75,87.5,100

Refrigerant Charge (kg)

115

134

148

158

177

218

256

292

36

84

92

124

Condenser

Shell and Tube Type

Water Side Max Pressure (MPa)

1

Dia.of Pipe to Condenser (inch)

5"

5"

5"

5"

6"

6"

8"

8"

3"

4"

5"

5"

Cooling Water Flow (m3/h)

80.6

93.3

102.4

109.8

122.4

154.1

181.0

201.4

25.8

58.7

65.8

87.3

Condenser Water Pressure drop(kPa)

50

56

58

59

61

63

72

76

38

41

42

42

Evaporator

Shell and Tube Type

Water Side Max Pressure (MPa)

1

Dia.of Pipe to Evaporator(inch)

5"

5"

5"

5"

5"

8"

8"

8"

3"

5"

5"

5"

40% Glycol Flow Capacity (m3/h)

61.3

71.1

78.1

84.0

93.7

117.4

138.1

154.1

19.2

44.5

49.8

66.4

Evaporator Water Pressure drop (kPa)

96

48

70

84

87

90

92

95

38

51

65

54

Running Noise dB(A)

75.0

75.0

75.0

75.0

75.0

75.0

75.0

75.0

75.0

75.0

75.0

75.0

Total weight (Kg)

3100

3300

3540

3820

4000

4320

4580

4950

1740

2680

3010

3660

Running Weight (Kg)

3530

3720

4070

4320

4570

4900

5180

5550

2170

3480

3920

4760

Heat Recovery Parameters

Refrigerant charge(kg)

120

140

154

164

185

228

266

306

42

90

98

130

Heat Reclaimed Volume

kW

93

108

119

128

142

178

210

234

29

68

76

101

USRT

26.4

30.7

33.7

36.3

40.4

50.7

59.6

66.5

8.3

19.2

21.5

28.7

X1000 Kcal/h

80.0

92.9

101.9

109.6

122.3

153.2

180.3

201.2

25.0

58.0

65.0

86.7

Heat Recoverer

Shell and Tube Type

Water Side Max Pressure(MPa)

1

Dia of pipe to Heat Recoverer(inch)

2-1/2"

3"

3"

3"

3"

4"

4"

4"

2"

2-1/2"

2-1/2"

2-1/2"

Reclaimed Water Flow(m3/h)

16.0

18.6

20.4

21.9

24.5

30.6

36.1

40.2

5.0

11.6

13.0

17.3

Heat recovery Unit Water
Pressure drop(kPa)

26

26

27

30

32

34

35

35

23

26

26

28

Total weight (Kg)

3440

3680

3920

4200

4380

4880

5240

5640

1870

2930

3280

4010

Running Weight (Kg)

3870

4100

4450

4700

4950

5490

5860

6270

2300

3730

4220

5110
Low Temperature Water Cooled Screw Chiller (Heat Recovery)(-15ºC/R404A)

ESGI

145DDOXY

160DDOXY

170DDOXY

175DDOXY

205DDOXY

225DDOXY

240DDOXY

270DDOXY

340DDOXY

400DDOXY

445DDOXY

145DDOXVY

160DDOXVY

170DDOXVY

175DDOXVY

205DDOXVY

225DDOXVY

240DDOXVY

270DDOXVY

340DDOXVY

400DDOXVY

445DDOXVY

Rated Cooling Capacity

KW

502

555

592

619

719

790

849

948

1187

1398

1561

USRT

142.7

157.8

168.3

176.0

204.4

224.6

241.4

269.5

337.5

397.5

443.8

X1000 Kcal/h

431.6

477.2

509.0

532.2

618.2

679.3

730.0

815.1

1020.6

1202.1

1342.2

Input Power

KW

255.4

284.0

301.2

317.2

365.4

401.4

427.4

475.0

604.4

707.6

782.2

Comp.Input Power XQTY (kw)

127.7×1

142.0×1

150.6×1

158.6×1

182.7×1

200.7×1

213.7×1

237.5×1

302.2×1

353.8×1

391.1×1

Comp.Current (A)

429.4

477.6

506.4

533.2

614.4

674.8

718.6

798.6

1016.0

1189.8

1315.0

Power Supply/Refrigerant

3 -380V-50HZ/R404A

Protection Device

Phase reversion protection, Phase lack protection, Overload current protection,
Discharge air temperature protection, Low&High pressure protection,
Low temp protection, Reserved water flow protection interface.

Number of Refrigeration Circuit

2

Capacity Control (%)

0, 25,37.5,50,62.5,75,87.5,100

Refrigerant Charge (kg)

188

204

220

230

268

296

316

354

436

512

584

Condenser

Shell and Tube Type

Water Side Max Pressure (MPa)

1

Dia.of Pipe to Condenser (inch)

4"×2

5"×2

5"×2

5"×2

5"×2

5"×2

5"×2

6"×2

6"×2

8"×2

8"×2

Cooling Water Flow (m3/h)

130.2

144.3

153.6

161.0

186.5

204.9

219.5

244.7

308.1

362.1

403.0

Condenser Water Pressure drop(kPa)

43

44

47

50

56

58

63

69

72

75

80

Evaporator

Shell and Tube Type

Water Side Max Pressure (MPa)

1

Dia.of Pipe to Evaporator(inch)

6"

6"

8"

8"

8"

8"

8"

8"

8"

10"

10"

40% Glycol Flow Capacity (m3/h)

99.2

109.7

117.0

122.3

142.1

156.1

167.8

187.3

234.6

276.3

308.5

Evaporator Water Pressure drop (kPa)

58

35

38

68

73

95

63

69

72

75

80

Running Noise dB(A)

75.0

75.0

75.0

75.0

75.0

75.0

75.0

75.0

75.0

75.0

75.0

Total weight (Kg)

4560

4940

5350

5890

6390

6850

7080

7330

9000

9700

10300

Running Weight (Kg)

5780

6260

6700

6940

7170

7430

7760

8110

10160

11000

11600

Heat Recovery Parameters

Refrigerant charge(kg)

196

214

230

240

280

308

328

370

456

532

612

Heat Reclaimed Volume

kW

151

167

178

186

216

237

255

284

356

419

468

USRT

42.8

47.3

50.5

52.8

61.3

67.4

72.4

80.9

101.3

119.2

133.2

X1000 Kcal/h

129.5

143.2

152.7

159.7

185.5

203.8

219.0

244.5

306.2

360.6

402.7

Heat Recoverer

Shell and Tube Type

Water Side Max Pressure(MPa)

1

Dia of pipe to Heat Recoverer(inch)

3"

3"

3"

3"

4"

4"

4"

4"

5"

5"

5"

Reclaimed Water Flow(m3/h)

25.9

28.6

30.5

31.9

37.1

40.8

43.8

48.9

61.2

72.1

80.5

Heat recovery Unit Water
Pressure drop(kPa)

34

35

38

38

39

42

43

43

43

43

43

Total weight (Kg)

4920

5520

5930

6540

7210

7670

7900

8150

9250

10180

10780

Running Weight (Kg)

6130

6840

7280

7590

7990

8250

8580

8930

10420

11380

12000
Note:
(1)Rated cooling capacity based:Chilled Liquid water in/outlet -10°C/ -15°C, cooling water in/outlet 30°C/35°C; Fouling factor: 0.088 m²·°C/KW;
(2)Chilled Liquid range: -15°C ~ -5°C;Cooling water range: 15°C ~ 40°C;
(3) Specifications are subject to change without notice for further improvement.



4.Eurostars water cooled low temp. glycol indstrial water chiller

Quotation Remarks




(1)Packing: Standard export package




(2)Delivery Day: 35 working days after deposit is confirmed




(3)Delivery term: CIF,FOB or CNF EX-Work are welcomed




(4)Payment term: 30% deposit by TT, the balance will be paid by TT before delivery;




Or 100% Irrevocable non-transferred LC at sight




(5)Warranty: 12~18 months after Bill of Lading date. Any unartificial failure occurred within the period, we'll supply you the spare parts for free, and permanent technical support & consultation all life long for the machines.




(6)Validity: 20 days




(7)Payment currency: USD